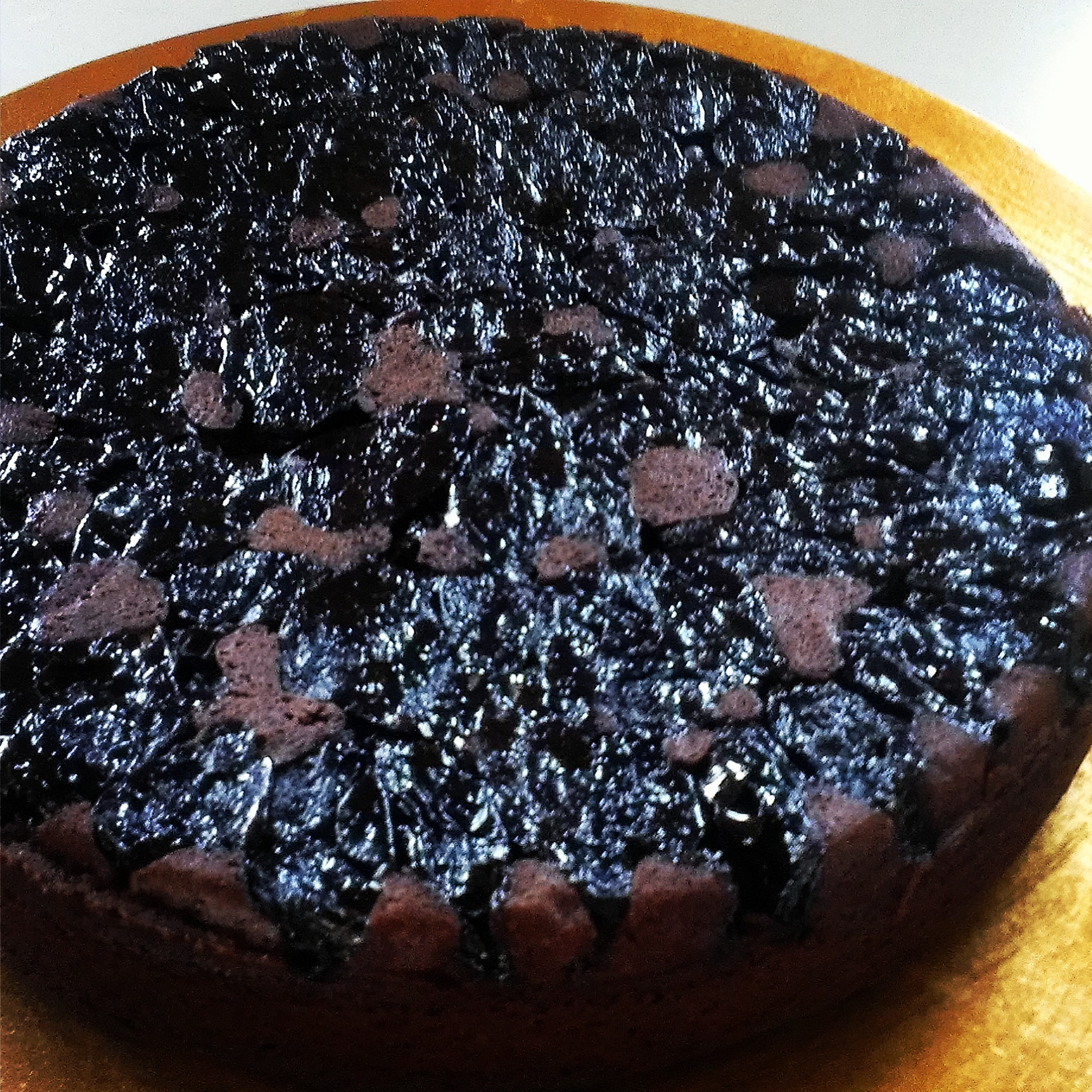 Chocolate, Prune and Port Upside Cake
This is a lovely moist cake, deep chocolate flavor with an almost brownie like texture with the added treat of those port soaked prunes.
Perfect with a little dollop of thick cream and some extra port soaked prunes as garnish.For best results ,eat on day of baking or serve warm.
You might be thinking there's nothing luxurious about prunes but these prunes have been soaked overnight in port turning them into deliciously soft  boozy pockets of joy.Enjoy!!
INGREDIENTS:
350 grams whole prunes or 285 gm pitted prunes
1 cup of Port
250 grams unsalted butter, cubed
250 grams dark chocolate, roughly chopped (good quality)
4 eggs, separated
100 grams raw castor sugar
100 grams soft brown sugar
50 grams plain flour
50 grams almond meal
METHOD:
Pit whole prunes by slicing length-ways halfway and removing stone carefully and then reshaping back to natural prune shape.
Place the prunes in a small bowl and pour in port to soak into the prunes. Seal and store in the fridge overnight.
Next day, carefully pick the prunes from the liquid, and lay them out on paper towels and cover with another sheet of paper towel and set to one
side.
1.Preheat oven to 170C.Put the butter and chocolate into a heatproof bowl and place it over a pot of gently simmering water. Give it a little
stir when you see it starting to melt and when it is almost totally melted, remove from the heat and stir until smooth. Let this cool a little
before proceeding.
2.Place the egg yolks, caster sugar and brown sugar into a bowl and whisk until light and creamy. Pour in the cooled chocolate mix and stir well
3. sift together the plain flour and almond meal and add to the bowl, folding this in until evenly distributed.
4.In a separate bowl, whisk the egg whites until thick (firm peak stage). Take a large spoonful and add to the cake mix – stir this in to slacken
the mixture. Add in the rest of the egg whites, folding it through gently.
5.Line the base of a 22cm/23cm cake tin (either spring-form or removable base works best) and butter the sides.Layer prunes in a symmetrical
pattern and then cover with the cake mix.
6.Place in a preheated 170°C oven and cook until set but still slightly soft in the middle.This will take about 45 minutes.
7.Let the cake cool in the tin for about 30 minutes and using a palette knife, run it along the sides to loosen the cake from the tin. Remove the
tin but let the cake cool completely before trying to place it on your serving dish.