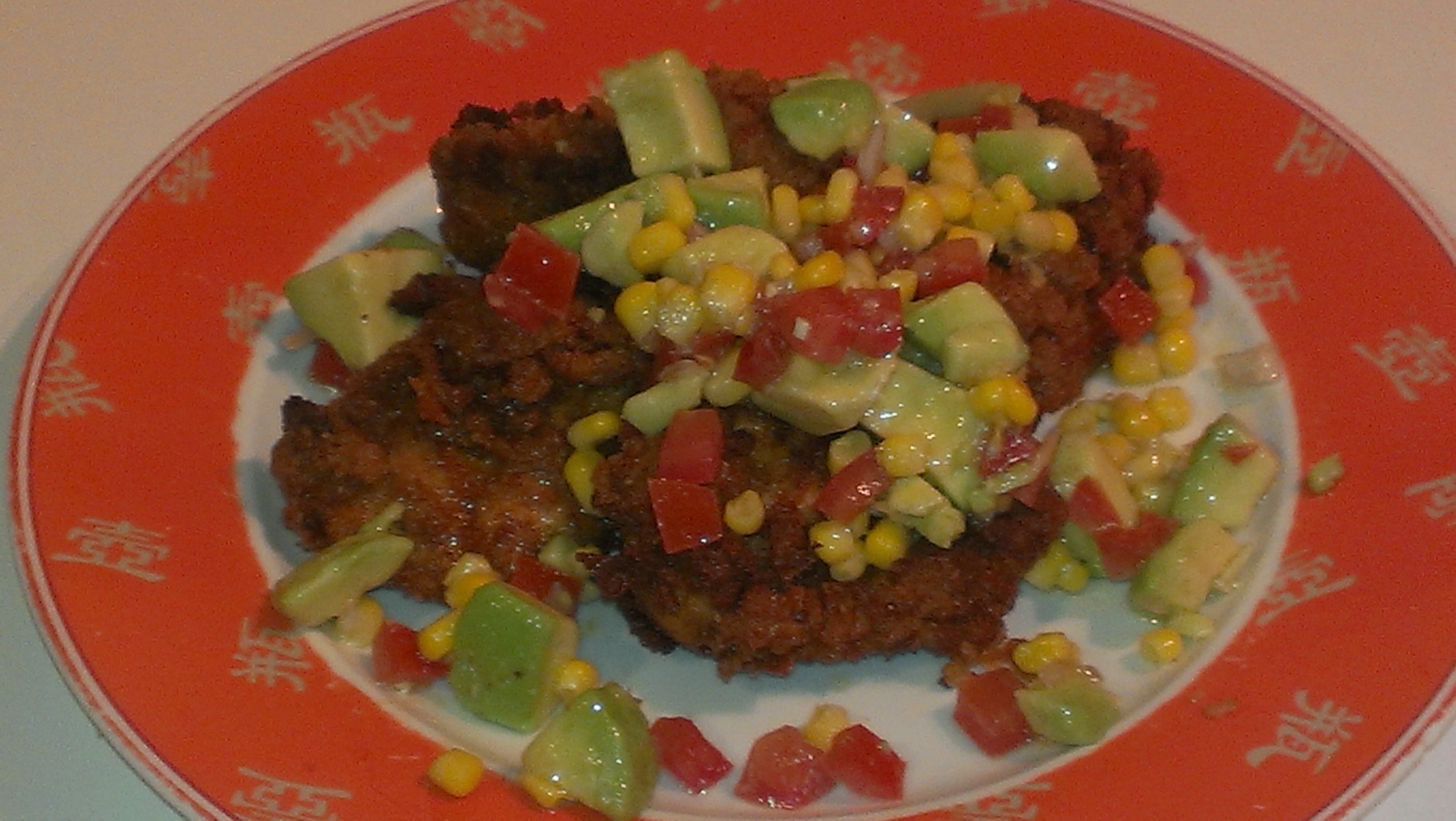 Our recipe of the month for April 2015 is Crunchy Buttermilk Fried Chicken.
Fried chicken is currently the latest food trend is to be revitalized and re-imagined, so here is our favorite recipe.
Have included also our favorite dipping sauce recipe …Mango Lime and Chilli sauce.
This version is a gourmet version of KFC.Once you master this recipe and add your favorite flavorings,never have to buy KFC again.
The longer you leave it to marinate, overnight the best, but also can be done as a quick 15 minute marinade.
INGREDIENTS:
1.5 KG OF ASSORTED CHICKEN PIECES (THIGHS AND DRUMSTICKS WITH SKIN ON)
1 TABLESPOON OF SWEET PAPRIKA
1 TABLESPOON OF SMOKED PAPRIKA
1 TABLESPOON OF FINELY GROUND PEPPER
1 TABLESPOON OF FINELY GROUND BLACK PEPPER
500MLS (2 CUPS ) BUTTERMILK
2 LITRES OF VEGETABLE OIL ( FOR DEEP FRYING)
500GM OF PLAIN FLOUR
90 GMS OF CORNFLOUR
350GMS  FINE WHITE BREADCRUMBS
METHOD:
1.Place chicken in a plastic/stainless steel bowl and season well paprika, peppers and sea salt.
2.Add buttermilk, and turn to coat and then marinate in the fridge for a minimum of 15 minutes..Overnight is best.
3.Preheat oil in a deep- fryer or deep pot to 180C.
4.Combine flours and breadcrumbs in a plastic bag or bowl and then drain chicken (discard marinade) and add to bag/bowl.
5.Shake well to coat and let stand for 5 minutes, then remove from bag/bowl whilst pressing in extra crumbs.
6.Deep fry chicken in 3 batches until golden brown and cooked through (6 minutes).
7. Remove from oil and drain on absorbent paper and season with your favorite sea salt.
For our dipping sauce please combine 300mls of sweet chilli sauce, 1 whole mango (skin and stone removed), 125gms of brown sugar and 100mls of lime juice and bring to boil, then turn down to simmer for 30 minutes. Stand and let cool and then puree and serve either hot or cold with the fried chicken.
PICTURE COMING SOON.