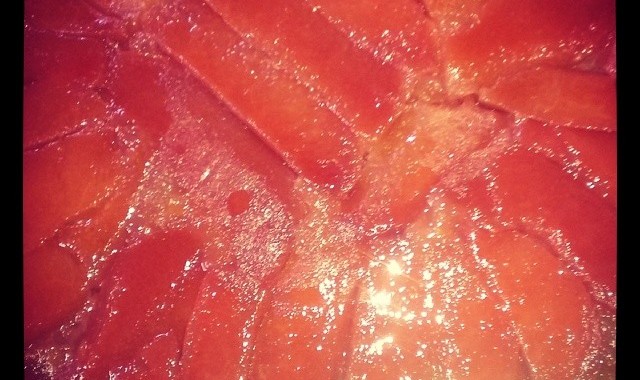 There is a late season run of Quinces at the moment and this cake is an amazing way to showcase their wonderful flavors, texture and color.
This cake can be kept in the fridge in an airtight container for up to 5 days and best eaten warm with double cream and a drizzle of fresh quince syrup..Enjoy!!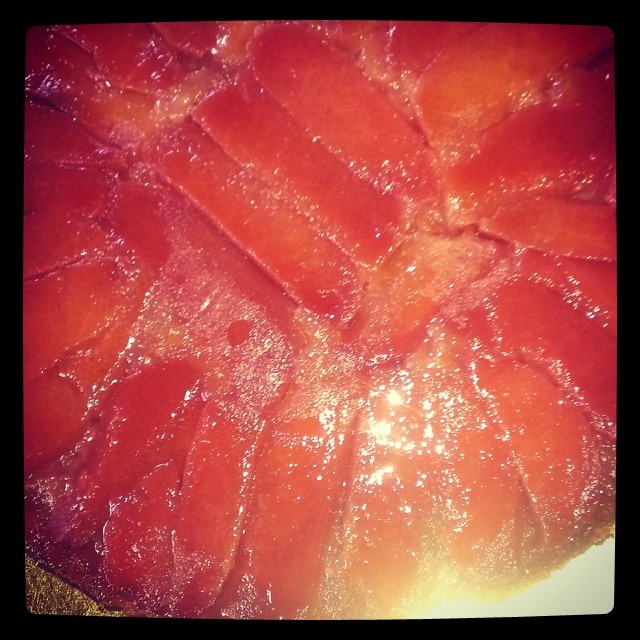 Ingredients – Pouching Quince
4 Quinces (aprox 1.5 kg)
5 pieces of Orange peel
6 cups water
650 gram Castor sugar
2 Cinnamon sticks
Method – Pouching Quince
Rub ,wash and core the quinces.
Dissolve the sugar over low heat and then add all the rest of the ingredients.
Simmer slowly for approximately 2-3 hours, or until the quinces change to a crimson red color.
Carefully drain the quinces and preserve all of the poaching syrup into a container altogether in an sealed container.
Ingredients – cake
3 eggs
170 grams Castor Sugar
1/2 cup of Ricotta
230 grams Self Raising Flour
175 grams Melted Butter
1/2 Tablespoon Vanilla Essence
Method – cake
Simmer about 3/4 cup of the poached quince syrup, until it is reduced to about 1/2 cup.Preheat oven to 160C.
Using a mixer, beat eggs and sugar for 10 minutes, or until the mixture is thick.Add vanilla essence.
Pour the melted butter in next and then folds in the sifted flour alternately with the ricotta.
Using a 22cm cake tin, well buttered and with the bottom-lined, place the poached quince in concentric circles.
Drizzle over the 1/2 cup of reduced quince syrup.
Using a spoon, spread the batter over the carefully placed quince and bake at 160C and bake for about 1 hour.Test with a skewer.
Let cool for 30 minutes before serving onto a serving plate and serve slightly warm with double thick cream and a drizzle of the spare quince sugar syrup.