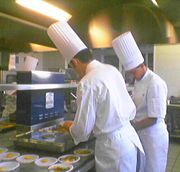 Restaurants, pubs and hotels face many challenges when it comes to staff recruitment and this has only been exacerbated by the pandemic.
Here are some excellent tips on how to recruit employees for your kitchens:
Don't advertise with multiply recruitment agencies and every social media platform.
Advertise with 1 reputable licensed recruitment agency and 1 social media platform.
Chefs looking for work see your advert everywhere and wonder why no-one else wants the job and they usually avoid applying.
Reduce High Employee Turnover
Many restaurants struggle with high turnover, and it is important to take steps to improve staff retention from the very start of the recruitment process.
Ensure that you only employ staff with a solid history of longevity in their previous employment or reach out to a recruitment agency to help with this process.
In some areas, the high turnover can be seasonal when restaurants recruit workers for the prime seasons.
Identify "Unique Selling Points" To Attract The Best Staff
When considering how to recruit restaurant staff, identify and promote the USPs of your business.
It could be anything from offering higher rates of pay, free meals, childcare provisions, reward schemes
for high-performance employees or any other scheme that sets your business apart from your competitors.
Also, consider the image of your restaurant you want to present, so employees can get a true picture of the business.
Get Support With Recruitment
In a post-pandemic world, restaurants are likely to be overwhelmed with applications or none at all.
A trusted restaurant recruitment agency can help to ensure that you have access to only the best talent when recruiting for restaurants and will give you support when processing the applications.
This can take the stress out of the hiring process and ensure you do not waste time and resources on unsuitable candidates.
Be Realistic
Give a candid overview to both applicants and the recruitment agency about what to expect from the job roles.
Be honest and open about working hours, remuneration, benefits and responsibilities.
This will encourage the most suitable candidates to apply and ultimately reduce turnover.
Consider Training Opportunities
If you are offering training to new employees, be clear about the levels of training being provided.
If you have lower resources or are less inclined to provide a high level of training,
make sure this is explained to the more experienced candidates at the beginning of the recruitment process.
Remember, the amount of training you wish to provide to new employees will be the determining factor in the level of experience that you require.
Apprentice Chefs
There's hardly any good chefs available at the moment because chef apprenticeships have been neglected for the last 15 years. If you haven't placed any apprentices in your restaurant in the last 10 years, don't complain because your part of the problem.
Sorry but its true, so another route to fill your vacancies is to start advertising for chef apprentices and really nurturing them through the 4 years because its tough and now more than ever, you need to look after these apprentices like they are part of your family not a commodity that gets thrown away when times are tough!
Please call Adrian on 0401641918 or email adrian@cheffingaround.com.au for help with staff recruitment.