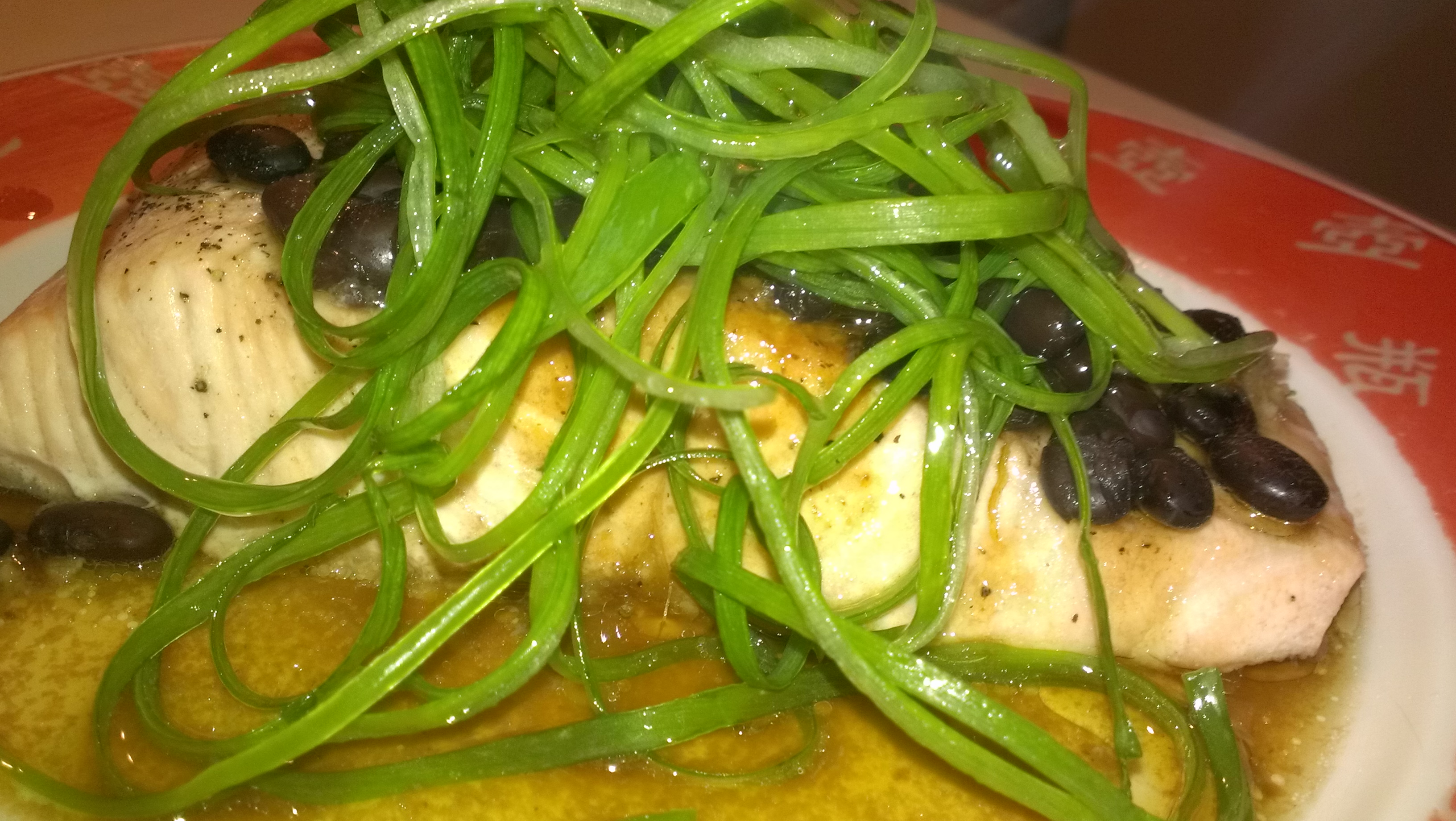 Many of my friends are Salmon connoisseurs are always asking for new cooking techniques for this fish.
This is my favorite recipe for Salmon and is very healthy for you.This recipe is for 4 portions but can be divided into smaller quantities if needed. Serve with freshly steamed Bok-choy or Gay-ling to complete this tasty dish! Enjoy!
Ingredients
800gms of Fresh Salmon fillet (Boneless, skinned and divided into 4 portions of 200gms each)
1 teaspoon of salt
1/4 teaspoon of freshly ground pepper
2 tablespoons of chopped black beans
1.5 tablespoons of finely chopped garlic
1 tablespoon of finely chopped fresh ginger
1.5 tablespoons of dry sherry or Shaoxing rice wine
1 tablespoon of light soy sauce
3 tablespoons of finely chopped spring onions or (julienne lengthways by rolling entire spring onion top for a seaweed look)
small handful of fresh coriander
1.5 tablespoon of groundnut oil or sesame oil
Method
1.Sprinkle the salmon pieces evenly with salt and pepper.
2.Combine the black beans, garlic and ginger in a small bowl.
3.Prepare a steamer with a plate that will fit in the steamer comfortably.
4.Put the fillets on a heatproof plate and evenly scatter the black bean mixture over the top.
5.Pour the Shoaxing rice wine or dry sherry over the top of the fish along with the soy sauce.
6.Once steamer is ready, (at optimum  steaming at 100C) place the fish plate into the steamer and then turn heat to low.
7.Steam gently for 8-10 minutes depending on thickness of the fillets.
8.Replenish the water in the steamer as necessary , if water is running dry
9.When the fish is cooked, place bok choy/gay-ling in steamer for approximately 5 minutes.
10.Scatter the spring onions and coriander on top of the fish.
11.Heat a pan or wok over high heat until hot and add Groundnut/Sesame oil and once slightly smoking, pour this over your fish.
12. Serve with the steamed bok choy/gay-ling.
We hope you enjoy your Steamed Salmon with Black Beans recipe from the chefs at Cheffing Around..
PICTURE COMING SOON!