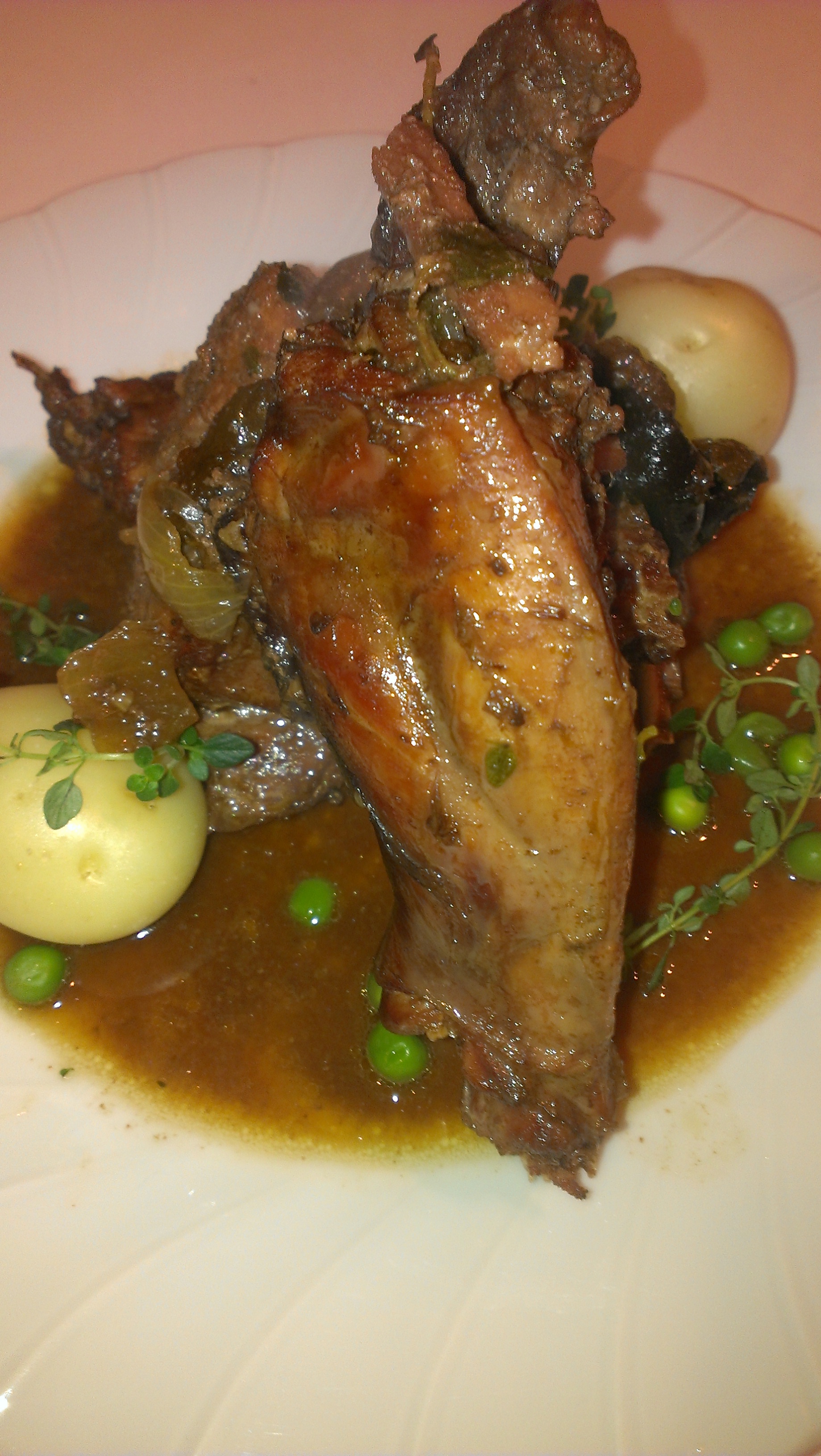 Cheffing Arounds recipe of the month for June 2015 is Rabbit casserole with prunes and red wine
This a flavorsome rich casserole recipe that is a bit different and uses rabbit and is perfect for this time of year.
The herbs and cinnamon add a nice mulled wine flavor while the other ingredients intensify the flavors and density.
This recipe also works well with Hare if you can get them!?
Remove the bouquet garni before serving.
INGREDIENTS:
1 LARGE RABBIT (APPROX 1.5 KG) CUT INTO 6 PIECES
400ML OF RED WINE
1 TBSP OF RED WINE VINEGAR
70ML OLIVE OIL
12 SMALL PICKLING ONIONS
125 GMS OF PIECES OF BACON (THICKLY SLICED)
4 GARLIC CLOVES (THINLY SLICED)
1 TBSP OF QUINCE PASTE
1 TBSP OF FINELY GRATED DARK CHOCOLATE
12 PRUNES
4 THYME SPRIGS,
4 FLAT LEAF PARSLEY STALKS
4 OREGANO STALKS
1 CINNAMON QUILL
4 FRESH BAY LEAVES
METHOD:
1.Combine rabbit pieces, red wine and vinegar in a plastic container and refrigerate overnight to marinade
2.Preheat oven to 180C
3.For bouquet garni, roll herbs and cinnamon in bay leaves and tie up with kitchen string.
4.Heat oil in casserole dish over medium heat.
5.Drain rabbit pieces, and keep marinade.
6.Pat dry each rabbit piece on absorbent paper and fry in batches until golden brown.
7.Add onions and bacon to casserole dish and saute till golden brown.
8.Add garlic, quince paste,chocolate, bouquet garni , marinade liquid and 1 cup of water and bring back to a simmer
9.Place sealed rabbit pieces in casserole dish and cover with lid and bake for 45 minutes.
10.Now add prunes and cook for another 30 minutes until rabbit is tender.Serve with baby potatoes or your favorite potato dish.
PICTURE COMING SOON.