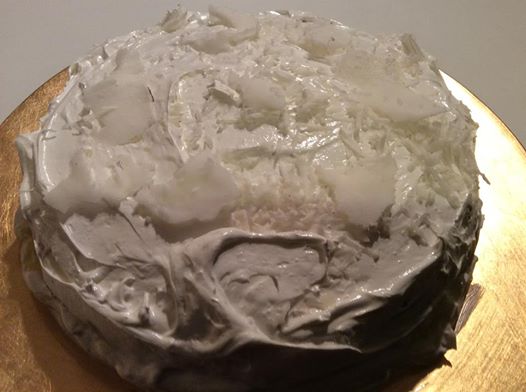 Cheffing Around Recipe of the month for April 2015 is the amazing Coconut Cake with Lime Curd.
Found this cake in Gourmet Traveller January issue 2011 and has become a favorite with all who eats this very moist cake.
Perfect cake for family members of all ages and can be adjusted with the lime curd being changed to a lemon or orange curd just by substituting the lime with either lemon or orange or any of your favorite citrus fruits
Best eaten once iced and will last approx 3 days once refrigerated. Enjoy!!
INGREDIENTS:
Malibu chiffon cake
300 gm (2 cups) plain flour sieved
220 gm (1 cup) sugar
3 tsp baking powder
125 ml (½ cup) vegetable oil
7 eggs, separated
2 tsp coconut essence
Pinch of cream of tartar
60 ml Malibu
Lime curd
60 gm butter
40 gm caster sugar
40 ml lime juice (about 2 limes),
plus rind of ½ lime, finely grated
3 egg yolks
½ gelatine leaf, softened in cold water for 5 minutes
Italian meringue
185 gm caster sugar
3 egg whites
Pinch cream of tartar
1-2 tsp coconut essence
Garnish
100 gm creme fraîche
100 ml heavy cream (45% milk fat)
To serve: finely grated flesh of 1 mature coconut
Method
1.For Malibu chiffon cake, preheat oven to 165C. Combine flour, sugar, baking powder and ½ tsp salt in a bowl. Whisk in 200ml water, vegetable oil, egg yolks and coconut essence until smooth. Whisk egg whites and cream of tartar in a separate bowl until stiff peaks form, fold one-third through flour mixture, then fold remaining egg whites into flour mixture. Pour into two 20cm-diameter cake tins that have been buttered, floured and lined on the base with baking paper, then bake until cakes are golden and a skewer withdraws clean (30-40 minutes; don't be concerned if cakes crack a little). Brush with Malibu, cool in tins for 15 minutes, remove from tins, cool completely on a wire rack, then trim tops level.
2.For lime curd, whisk butter, sugar, lime juice and egg yolks in a heatproof bowl over a saucepan of simmering water until combined, then stir occasionally until thick (3-6 minutes), stir in lime rind and remove from heat. Squeeze excess water from gelatine, add to curd, stir to dissolve. Cover closely with plastic wrap, set aside to cool, refrigerate until set.
3.For Italian meringue, combine sugar and 60ml water in a small saucepan over medium-high heat and stir until sugar dissolves (1-2 minutes). Brush down sides of pan with a wet pastry brush to remove sugar crystals, then bring to the boil and cook until syrup reaches 115C on a sugar thermometer (soft ball stage; 10-15 minutes). Whisk egg whites and cream of tartar in an electric mixer until soft peaks form. Meanwhile, continue cooking syrup to 121C (hard ball stage), then, whisking egg whites continuously on medium speed, slowly add hot syrup until all is incorporated. Whisk on high speed until thick, glossy and cooled to room temperature (15-20 minutes), then stir in coconut essence.
4.Whisk lime curd in a bowl to a spreadable consistency and spread over top of one cake. Whisk creme fraîche and cream to stiff peaks and spread over curd, then top with remaining cake. Spread meringue over top and sides of cake, scatter with coconut and serve.