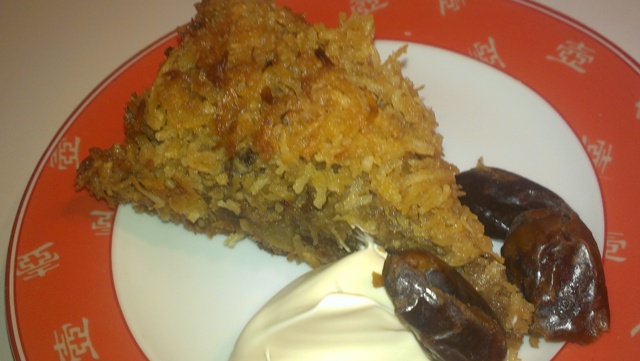 People enjoy and ask for old fashioned cake recipes like Grandma used to make.
This cake is perfect for all age groups and freezes very well.
Great recipe for adjustments as you can add more apple, or less dates depending on your taste.Great with almanac soaked dates or prunes.
Enjoy!!
Ingredients – Cake
1 Egg
2 Large Granny Smiths Apples (400 grams) peeled and finely chopped
180 grams Chopped Dates
225 grams Caster Sugar
190 grams Plain Flour
1 Teaspoon Bicarbonate of Soda
1 Teaspoon Vanilla Essence
125 gram Butter
1 cup boiling water
2 Vanilla pods, split into two and seed removed
Ingredients – topping
70 grams Unsalted Butter
175 grams Brown Sugar
185 ml Milk
200 grams Threaded or Shredded Coconut
Method – cake
Butter a 24 cm spring form round cake tin and line bottom with grease proof paper
Pre-heat oven to 170C
Combine the apples, dates, bicarbonate of soda and the boiling water in a bowl and let stand
Beat the softened butter and vanilla essence, vanilla seeds and sugar with an electric mixer until it's light and creamy
Add Egg and beat until well combined
Slowly add the sifted flour to the Apple mixture
Mix all together and transfer to cake tin
Bake for 40 minutes at 170C
Method – Topping
Mix butter, milk, sugar in a saucepan and stir over a low heat until the butter and sugar is melted
Set aside until the cake is read
Method – Combine and complete
After 40 minutes baking, remove cake from oven and spread the topping and then bake for a further 20 - 25 minutes until the topping goes golden brown
Cool cake completely in cake tin before removing