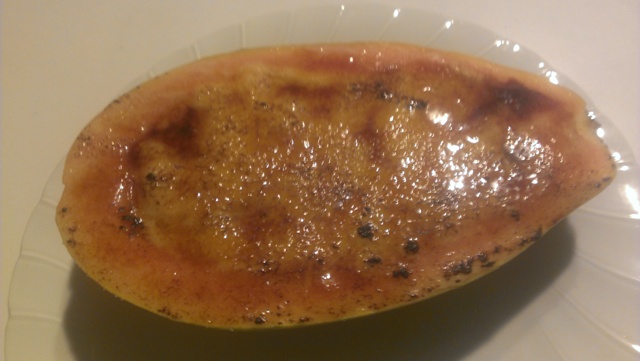 A summer dessert with a twist. This dessert is best shared between friends and family and quite a hit with young children also.
The glazing of sugar , like a creme brulee, makes a sugary toffee topping adding an element of crunch to the dessert.
Whilst not a true creme brulee, the creme patisserie can be flavored as you like eg: Kaffir lime, lime zest, lemon zest or orange zest are also great flavors that match with the Papaya.
You can add extra fruit down the bottom of papaya for an extra surprise!.
PS. You will need a butane gas gun for glazing and these can be bought at any good hospitality supply store quite cheaply.
Ingredients
1 SMALL PAPAYA (RIPE BUT FIRM)
8 EGG YOLKS
750 MLS OF MILK
250GMS OF CASTOR SUGAR
125 GMS OF PLAIN FLOUR
150GMS OF DESSICATED COCONUT.
100GMS OF CASTOR SUGAR.
Ingredients
To make creme patisserie, you will need to separate eggs and whisk to light and creamy with the 250gm of castor sugar.
Boil milk carefully with the coconut, as milk likes to boil up and spill over the stove.Let cool slightly.
Add plain flour to egg/sugar mix and mix well.
Add hot milk mixture and mix well.
Return back to pot and cook out slowly on a low heat carefully as mixture will thicken quickly, making sure to stir the the bottom pf the pot to prevent sticking and burning.
Cook out for at least 10 -15 minutes till mixture starts to go shiny and flour taste has disappeared.Place in a bowl to cool and once warm refrigerate to completely cooled.
Cut Papaya lengthways and remove all seeds leaving as much papaya flesh as possible.
Fill with cool coconut creme patisserie and level to smooth and even.
Cover with castor sugar and glaze like a creme brulee sugar is a golden brown caramel all over evenly.
Serve with fresh ice-cream and double cream. Enjoy!!