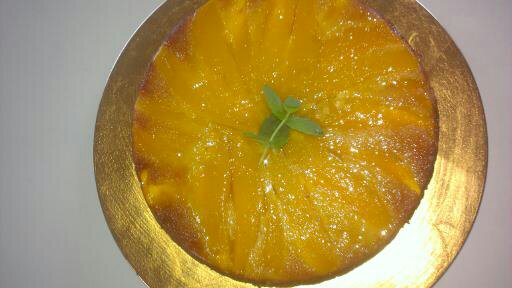 This time of year Mangoes are in abundance and affordable.This cake is best eaten of the day it is cooked either hot or cold. Serve with double cream and some fresh mango for nice contrast. Enjoy!!
Ingredients
2 large Mangoes
340 gram softened butter
340 gram castor sugar
6 eggs
240 gram of self raising flour
2 tablespoons baking powder
90 gram ground almonds
zest of 4 lemons
2 tablespoons of lemons
Glaze
1/2 cup of lemon juice
1/2 cup of caster sugar
6 tablespoons of water
Method
Butter and line a 28 cm spring form tin.Preheat oven to 180C
Peel and slice mango into wedges and arrange on the base of your cake tin
Beat the butter and sugar until light and creamy.
Add eggs one at a time, beating well after each addition.
Sift the flour and baking powder together and fold into butter mixture, alternately with the ground almonds, zest and juice.
Pour the mixture over the mangoes and bake at 180C for 40 minutes.
Reduce the temperature to 150C and bake for an additional 25 minutes.Check that it is cooked by inserting a metal skewer: you will know it is cooked when the skewer comes out clean.
Leave to cool for 30 minutes before inverting on to your cake plate.
To make Glaze, combine the lemon juice, sugar and water in a saucepan and stir over a gentle heat until the sugar dissolves.Bring to the boil, without stirring, until the syrup has thickened.This will usually take about 5 minutes.Using a pastry brush, brush over the top of the cake.
If you would like one of our expert Chef's to help you create this and any other lovely dishes for your next function, send us a note using the contact form below with your details and requirements and we'll be happy to get back to you.