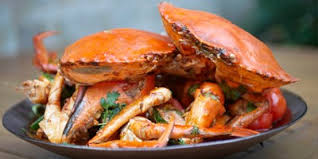 Nothings better than a Chilli Mud crab during summer with a ice cold beers with friends, especially if introducing this delicious crustacean to people for the first time.
Traditional recipe includes belacan (fermented shrimp paste) which can be difficult to find but can be left out, substituting with a few drops of fish sauce.
Remember to put live Mud Crabs in the freezer for an hour before preparation. Enjoy!!
Ingredients
Mud crab, well washed and chopped into sections
2 brown onions, peeled and roughly chopped
8 red chillies
Belacan, thumb nail size piece(fermented shrimp paste)(optional)
½ tbsp vinegar
6 tbsp oil
1 tbsp tomato paste
400ml tomato puree
4 tbsp light soy sauce
½ tsp salt
4 tbsp sugar
Water
¼ tsp Cornflour or potato starch, mixed in ½ cup of COLD water
1 egg
Coriander leaves, to garnish
Method
Method
Blend onions and chillies in a food processor for 30 seconds.
Heat oil in a wok and add onion and chilli paste.
Add belacan and continue to cook until most of the liquid from the onions evaporates.
Add vinegar, tomato puree, tomato paste, sugar and salt.
Add starch and light soy sauce.
Add crab pieces and continue to cook over high heat until shell turns red. (7 minutes aprox)
Add starch.
Add egg and stir through gently.
Garnish with fresh coriander leaves.