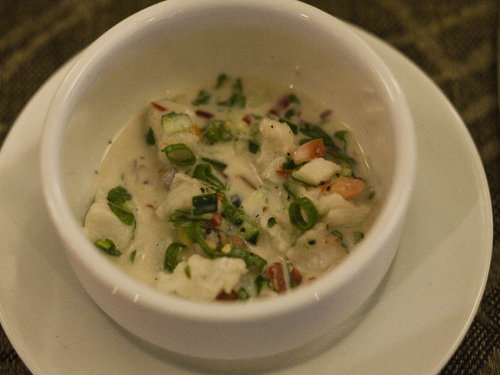 Bula everyone! This is my favorite dish from Fiji and it suited the hot humid climate perfectly and should also suit our hot Australian summers also.
Best made with freshly caught white fleshed fish and once tried can be altered to include your favorite flavors. eg more coriander, more chilli.
Best served ice cold and the perfect entree for that next BBQ! Enjoy!
Ingredients
1 Spanish Mackerel Fillet/ Mahi Mahi, Snapper, Coral trout, (or similar boneless, white firm fleshed fish)½ Cup Lime Juice (marinade)
1 cup Coconut Cream (fresh is best)
½ cup Lime Juice (serving)
2 Tbs Shallots (finely diced)
2 Tbs Red Capsicum (finely diced)
2 Tbs Green Capsicum (finely diced)
2 Tbs Cucumber (finely diced)
2 t/s Red Chili (finely chopped)
2 Tbs Red Onion (finely diced)
2 Tbs Coriander (finely chopped)
2 Tbs Tomato (finely diced)
Salt Pepper to taste
Method
Dice the fish fillet into small cubes.  Place in a non reactive container with the lime juice to marinade. Cover and refrigerate overnight.Over the next 12 to 24 hours the fish should become opaque and cooked.Drain the lime juice (reserving the liquid) from the fish.Toss the fish through the coconut mixture, adding any lime juice if required.Mix well and chill. Refrigerate for 4 hours before use and serve with a salad or on its own.Place a lettuce leaf in a small dish and spoon in mixture.Serve immediately with salt and pepper.
If you would like one of our expert Chef's to help you create this and any other lovely dishes for your next function, send us a note using the contact form below with your details and requirements and we'll be happy to get back to you.