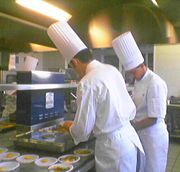 AURORA @LIGHT ADELAIDE, ADELAIDE,S.A.
Junior Sous Chef – $62500
Chef de partie – $56287
All staff will be on 8 hours shifts (including break), and all over time will be paid.
An exciting concept is opening in Adelaide very soon and are looking for committed and experienced chefs to join this exciting brigade.
Light's vision is to provide a home and community for accessible excellence in art, performance and hospitality.
In its building located in Light Square Adelaide, it will innovatively use the wonder of light and digital immersion to inspire creativity and imagination, "transport" people to different locations, and attract new audiences to experience amazing food, music, theatre,and art.
Light will seek to create a diverse and welcoming culture which has as its number one priority our staff and artists as principal stakeholders.
The Light Group as a whole will be not for profit, and profits from the hospitality businesses will cross subsidise training, the performance venues and artist support structures.
Light principally consists of:
• A community focused café ("Little Mission")
• An outstanding restaurant ("Aurora") (90 covers) (Open Mid January 2021)
• A digital multi-use performance venue(the "Lab") (300 guests)
• A high-quality bar on the first floor(200 guests) (Open Jan 2021)
• A mentored artist residency space for 20 artists rotating annually ("We-Create Space") (Open Q2 2021)
• A medium sized performance venue surrounded by state-of –the-art immersive video walls and audio systems (600 – 700 guests) (Open Q3 2021)
These different businesses will be harmonised and culturally connected to create a seamless and holistic experience for their guests and through all of these spaces will run the common thread of light and digital immersion.
Creative. Collaborative. Caring. Committed to Excellence in Food and Hospitality.
If this sounds like you, come and re-create eating and drinking out in a new restaurant project designed to restore the city's spirit;
coax the community from their couches, ditch the dial-up dinners, and re-connect with dining out in Adelaide.
It's about delivering an accessible, excellent, local produce-driven menu underpinned by unobtrusive, switched-on customer service in a place where people come first and feel good.
Core Values include
•Fresh thinking – Just because it was done like "this" before doesn't mean we need to keep doing it that way
•Hospitality excellence – committing to delivering a dining experience with one of Australia's leading chefs
•Making dining memories – celebrating local and a sense of place
•Produce with a purpose – supporting our food producers
•People first – caring about the customer experience and for our staff with training, fair pay and conditions
•Community – measuring success with community impact.Add your own flavour to these values and make your mark on the restaurant industry and the Adelaide community.
For more information on this property please visit www.lightadl.com.au
To apply, please send your current resume,a cover letter introducing yourself, and 3 check-able referees to adrian@cheffingaround.com.au or call Adrian Grant on 0401641918 for more information.
Good luck!