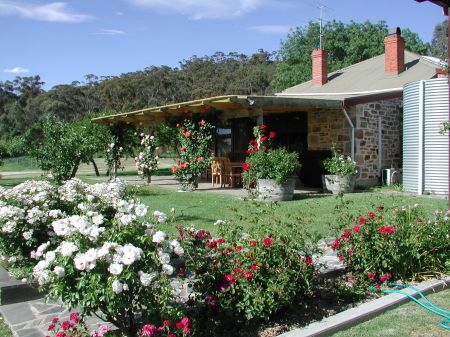 HEAD CHEF, SKILLOGALEE WINERY, CLARE, S.A.
$80K plus a bonus wine allowance.
5 day roster
40 hours+ per week.
Temporary accommodation to start.
Skillogalee is a busy country restaurant in the Clare Valley and forms part of a highly regarded winery, restaurant and accommodation business.
Seating around 30 inside in two rooms and a further 65 outside on the verandah and under the old olive tree, overlooking a cottage garden and the vines, the restaurant is open for lunches 7 days a week.
The emphasis is on interesting dishes from around the world using the best ingredients, local if possible, well-presented and professionally served, but in a relatively informal atmosphere.
Due to a resignation, a vacancy exists for a Head chef chef to take responsibility for planning and supervising the kitchen operations and contributing to them with the objective of improving operating ratios (revenue/wage costs, revenue/food costs), gross profit and high levels of customer service.
Key tasks will include the following:-
Review all kitchen procedures / productivity, recommend improvements and oversee implementation of agreed procedures eg ordering, cleaning, rostering, kitchen service standards and procedures, food hygiene, OH&S.
Take a lead role in team-building amongst the restaurant staff and contribute positively to staff morale and motivation;
Fulfill a number of shifts in the kitchen as the hands-on chef. Participate as an integral member of the kitchen team and contribute appropriately to prep, service and clean-up.
The successful applicant will have trade qualifications as a Chef, and an appropriate level of experience in all aspects of restaurant kitchen management.
For more information on this property please visit https://www.skillogalee.com.au/
To apply, please send your current resume with 3 check-able referees,and a detailed cover letter describing why you are the best fit for this establishment to adrian@cheffingaround.com.au or please call Adrian on 0401 641 918 or 08 7221 2716 for more information.
Good luck!