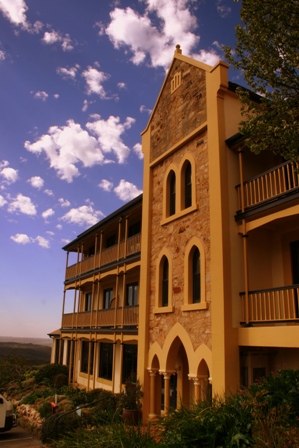 Cheffing Arounds Client of the month for September 2017 is the amazing Mount Lofty House which is located in Crafers in the awesome Adelaide Hills, South Australia.
Mount Lofty House was built in 1852 for Arthur Hardy. It was his summer residence, but it also became a venue for the most lavish parties, where Arthur would take great delight in hosting Adelaide's high society. Today, the space has been transformed into Hardy's Verandah Restaurant – true to the refinement, elegance and opulence the guests of Arthur Hardy enjoyed 165 years ago. Overlooking the patchwork Piccadilly Valley, HVR diners are treated to magnificent views as an accompaniment to the short and long story tasting menus on offer.
Arthur Waterhouse was the second owner of Mount Lofty House. While Arthur Hardy was known for lavish parties for Adelaide's elite, Arthur Waterhouse took a more relaxed approach to life and enjoyed nothing more than relaxing in his lounge and enjoying a casual meal with friends. Like Waterhouse, their shared style menu is relaxed and suited to sharing with friends. Inspired by the beautiful produce of the Piccadilly valley, and the raw nature of fire. Dishes are served as they come from the kitchen.
The experienced staff at Mount Lofty House offers knowledgeable, professional service, whilst new Executive Chef Sato Kikuchi sets about creating the finest quality menus, utilising fresh local produce and elements from their own organic kitchen garden.
Their latest menu has been created with an emphasis on the very best of the seasonal produce available right here in the Adelaide Hills. The restaurant's menu has evolved from its original, classical roots to a lighter handed, more natural approach. Where in the past they looked to Europe for ingredients and to the masters of classical cuisines, today they celebrate what is on their door stop, choosing beautiful, heirloom and organic vegetables and fruits and allowing them to shine and stand proudly on their own.
Enjoy breakfast in the warmth of the morning sun, or an evening meal watching the hills disappear into sunset evening, when you stay at their stunning hotel accommodation. Indulge in the sensational degustation dining menu in Adelaide for a truly memorable experience at Piccadilly Restaurant. This stunning Adelaide Hills restaurant is open to the public for breakfast and dinner seven days a week.
Reservations are recommended. Call Mount Lofty House at (08) 8339 6777 to book your table at this renowned Adelaide Hills restaurant.
Mount Lofty House is ideal venue for your next conference retreat, located just 15 minutes from the heart of Adelaide CBD but far enough to provide you with space and tranquillity. Set high with stunning views across the Piccadilly Valley, Mount Lofty House Adelaide provides the ultimate conference rooms and facilities for achieving your event objectives.
In an inspiring and revitalizing atmosphere, enjoy the clean air and breathtaking views, whilst they take care of your every need in their multi award winning, function venues in Adelaide, ideally designed for conference, meetings and retreats.
Whether it is an exclusive booking for all accommodation and conference facilities or a handful of rooms and an executive boardroom meeting, they have Adelaide conference rooms available that are ideal for groups from 5 – 300 delegates.
No matter what the occasion, Mount Lofty House is the perfect venue for your event. Seminars, conference retreats, meetings and workshops are all catered for in their award-winning function rooms and facilities in Adelaide. Inspirational views and unique areas for team building make it the perfect venue to send the right corporate message to your delegates and clients.
Contact Mount Lofty House today on 08 8339 6777 or email events@mtloftyhouse.com.au for more information.
Mount Lofty House, 74 Mt Lofty Summit Rd, Crafers SA 5152