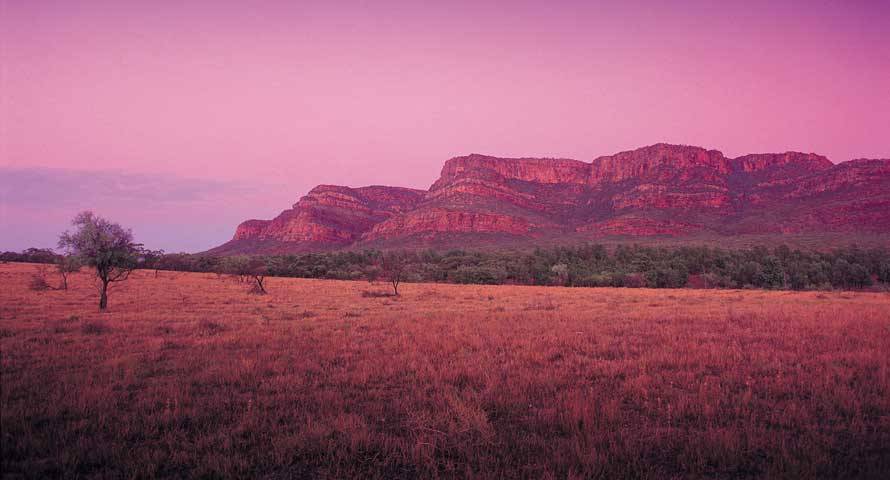 Cheffing Arounds Client of the month for July 2018 is the surreal Arkaroola Wilderness Sanctuary which is located 600km north of Adelaide and 130km east of Leigh Creek, and in the ruggedly spectacular northern Flinders Ranges.
During Australian Spring is the best time to visit this 610sq km multi award-winning Wilderness Sanctuary, operated by the Sprigg family, and contains some of Australia's most spectacular mountain views and offers numerous Advanced Ecotourism accredited guided tours.
Arkaroola features rugged mountains, towering granite peaks, magnificent gorges and mysterious waterholes, the home to over 160 species of birds and the shy and endangered Yellow-footed Rock-wallaby.
The magnificence of Arkaroola has been preserved for the world, thanks to one of Australia's greatest geologists and conservationists, the late Dr. Reg Sprigg, A.O D.Sc, h.c A.N.U. & Flinders Uni. Reg's appreciation for the region dates back to 1940 when he studied the area as a student of the great Antarctic explorer Sir Douglas Mawson. In 1967, Reg and Griselda Sprigg purchased what had become Arkaroola sheep station, re-establishing native flora and fauna, and transforming this special place into the spectacular private wilderness sanctuary that it is today.
Reg practiced ecotourism 30 years before the word was invented; he was truly a man of vision.
For professional, amateur or beginner,their three astronomical observatories, fitted with all manner of professional telescopes and other equipment, will keep you totally enthralled as the beauty of the Southern Hemisphere night skies open up for you.
Arkaroola is a mecca for bush-walkers and four wheel drivers. The spectacular Advanced Ecotourism accredited rugged 4WD Ridge-top Tour is world famous; journey to the depths of ancient seabeds and across razor-back ridges and peaks of the Flinders Ranges most rugged mountains to the magnificent climax at Sillers Lookout.Being the first Flinders Ranges tourist organization to achieve the coveted Advanced Ecotourism accreditation, and with now a total of eleven such products available for you to enjoy, Arkaroola is truly unique.
Their third successive S.A. Tourism Award win for Ecotourism (November 2007), saw Arkaroola awarded the coveted Hall of Fame, and is undoubtedly South Australia's premier ecotourism destination.
Facilities include:
Formal Dining in the Native Pine licensed restaurant
Relax in the Pick & Shovel lounge bar
BBQ facilities in Caravan Park
Bush Camp fires are permitted (except during Total Fire Ban periods)
Basic shop, fuel supplies and mechanical repairs
LPG available for gas bottle refills; sorry, not for motor vehicles
In-ground swimming pool, including adjacent BBQ area and licensed bar facilities
Ningana Information Centre – their friendly staff are ready to assist with every question you may have about the area
A wide variety of motel-style accommodation to suit most budgets, including back-packers
And no bothersome mobile phones! – they do have normal telephone services (including facsimile), and an Internet Cafe and a WiFi service to help you maintain contact with the outside world..
There are many ways to get to Arkaroola which include a bus service, by Genesis Tour & Charter ( which is available to Copley, 130 km to the east of Arkaroola and just north of Leigh Creek), by private vehicle, 4WD and 2WD hire companies,charter or private aircraft, or by organized coach tours.
Come and see this geological wonderland and astronomical heaven for yourself – promise you won't be disappointed.
If you have any questions at all, please don't hesitate to contact res@arkaroola.com.au or phone (08) 8648 4848.
For more information on this property please visit www.arkaroola.com.au
Enjoy!!
#safood. #ichoosesa