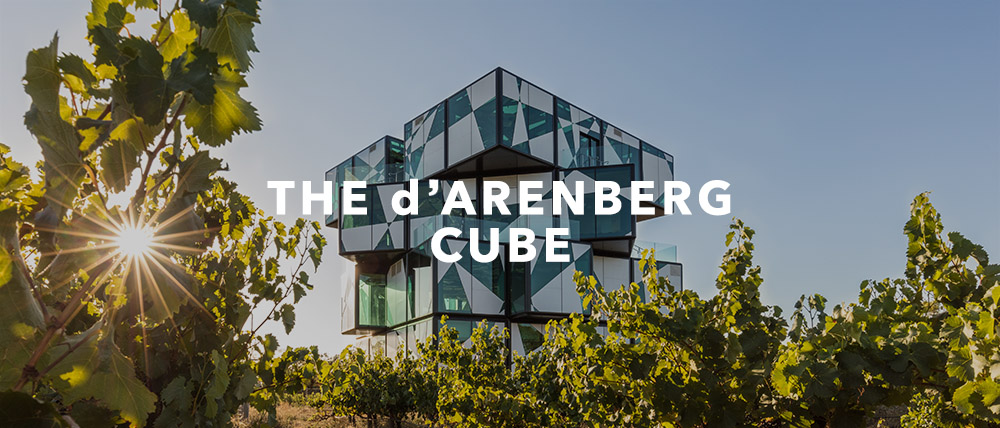 Cheffing Arounds Client of the month for the month of April 2018 is the amazing d`Arenberg cube
What is the d`Àrenberg Cube?
The d'Arenberg Cube,is a 5 storey futuristic wine and food experience situated at d'Arenberg Winery in the heart of McLaren Vale,a 40km drive south of Adelaide.
The five storey, $14 million glass-encased steel and concrete structure was inspired by Rubik's Cube. The building – an architectural puzzle four modules wide, four high and four deep – seems to float above the ground-floor entrance. The architectural twist is that the two top floors are askew, rotated on their axis, just as if you'd twisted your Rubik's Cube.
But the structure itself, though a startling addition to the surrounding vine-clad rolling slopes, is just the start of what will be a remarkable assault on the senses of anyone who ventures inside.The custom-designed entrance door will spin and fold open, origami-style, with feather-touch sensors to ensure no-one is inadvertently squashed as it closes.
Of the many concept wine rooms there is a "wine fog room", a vinous sensory overload as the visitor is immersed in a thick fog of whatever happens to be the wine of the day: breathe it, feel it, wear it.
The "flower and fruit room" with walls and ceiling smothered with artificial flowers and fruit, and up to 30 flagons containing a selection of the 72 different wines d'Arenberg produces under 60 labels.Each flagon is connected to a bike horn with rubber puffer.Beep the horn and inhale!
The "360-degree video room" with projections intended to make viewers feel as if they're in the middle of a vineyard with a lifelike soundtrack to enhance the realism.
An "art installation room". The room is created to give the impression of being inside a wine fermenter and features an installation by award-winning South Australian artist Jane Skeer of hundreds of dangling VHS video tapes, combined with projections of people treading grapes.
The "faces room" with a ceiling covered in representations of grapes and its brick-red walls decked with paintings of faces and bodies art collection – each painting matched with an appropriate d'Arenberg wine and that's just the first floor.
There's a lift to each floor, but that would mean missing out on the high-gloss stainless steel-mirrored stairwells, a shifting light show depicting the various colours of grapes – red, white, yellow, green – and caricatures of d'Arenberg wine labels commissioned from 30 of Australia's leading cartoonists with also a large kitchen and dining area that will be used for cooking classes and chef's tables
The second floor opens out to the largest open space in the building where d'Arenberg will move its busy function program that includes tutored tastings, single vineyard and vertical tastings, and blending classes. Here there are also the first two of several private function rooms, hidden behind a Shiraz-stained door constructed from the front of a 4500-litre wine vat, that can be used for VIP tastings and dinners.
On to the first of the twisted floors, a design that creates a series of outdoor open spaces, and it's here that will locate the winery's second restaurant, leaving d'Arrys Verandah under long-standing chef Peter Reschke to continue as usual adjacent to the current cellar door.
The fourth floor of the Cube is, in effect, a glass-encased and roofed pavilion with both public and private wine-tasting bars overlooking views of the entire McLaren Vale region. The 16 glass roof panels, each of which weighs two tonnes, feature the same geometric black and white design as the wall panels and are topped with 16 retractable umbrellas for sunny day protection. Even the bars are constructed from glass:
With 500 acres of organic and bio-dynamic vines they represent about a third of all McLaren Vale's premium production,and there the busiest cellar door in the region with 50,000 visitors a year.
The Cube at D`Arenberg is currently looking for an experienced Chef De Partie and Pastry Chef De Partie so if you would like to apply please send your current resume to adrian@cheffingaround.com.au with 3 referees and a cover letter describing yourself and professional abilities.
#safood #chefdepartie #pastrychef #chef #chefs #adelaide #SouthAustralia #Tourism