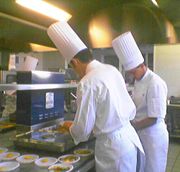 For nearly 10 years now, we have set the trend the other hospitality agencies follow and now we have something brand new that both Chefs and employers will enjoy and hopefully speed up the recruitment process in the meantime.
Qualified Chefs – If you would like to advertise yourself for free our our website and hopefully catch the eye of a future employer please forward your current and detailed resume with a recent photo of yourself, a detailed cover letter on your preferred food style/establishment, location and we shall give you a post on our website, which is yours until you find employment free of charge! Discretion is assured is you require anonymity, just let us know.This process would help Chefs looking for sponsorship and work visas for work in Australia.
Employers – Simply peruse the candidates we are showcasing and if a Chef suits your establishments needs, please let us know via email and we contact the Chef on your behalf and start the recruitment process quickly.
Our fee of $1320 for successful Chef placements is still the very best in Australia and comes with a 60 day clause that if either party is not happy with the placement then there is zero to pay!..Cant beat that!
And if you have any questions with this service please feel free to contact Adrian Grant on 0401 641 981 or 08 7221 2716
Enjoy!