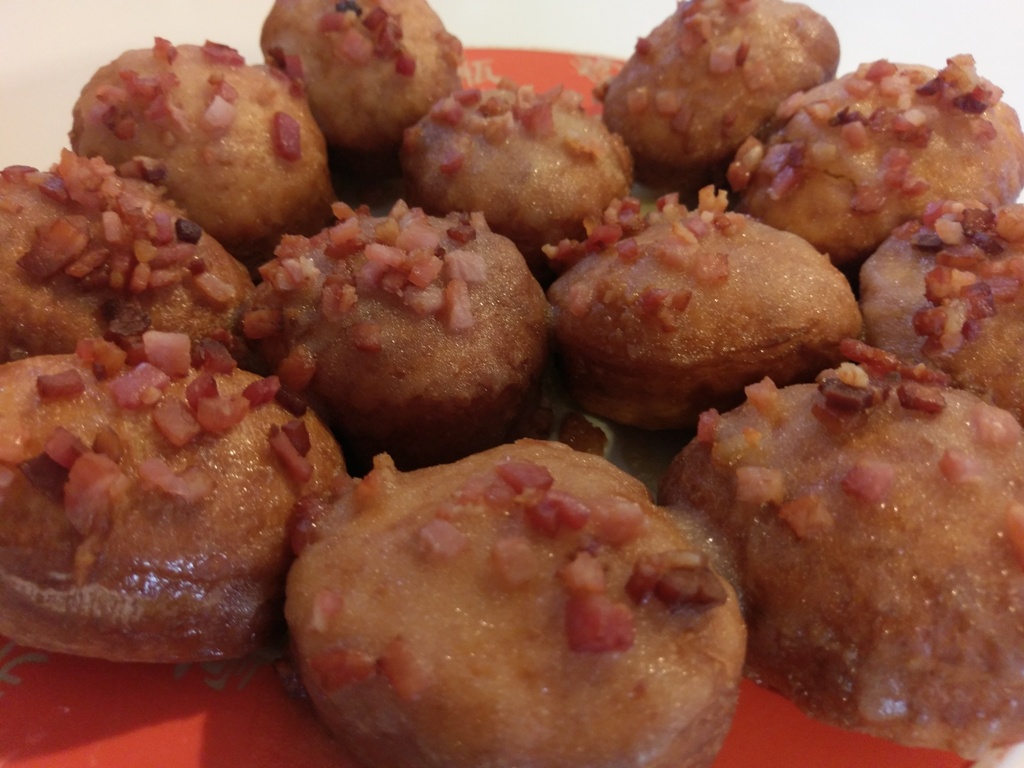 Bacon Jam Doughnuts (makes 18)
I wanted to combine Bacon and doughnuts in this original recipe and the results are mouth watering.
Best eaten after assembling and you can make larger doughnuts by substituting for a larger cutter.
For best results for piping Bacon Jam, push end of teaspoon halfway into doughnuts and by using a small pair of tweezers remove a teaspoon worth of doughnut to make more room for Bacon Jam.
Enjoy!!
Doughnut Ingredients:
490g plain flour
55g caster sugar
3 teaspoons dried yeast
Pinch of salt
250ml (1 cup) milk, warmed
100g butter, melted
3 egg yolks
Lard, to deep-fry
Icing ingredients:
1 cup of caster sugar
1/8 cup of pure 100 % maple syrup
2 tbsp  of water
8 slices of bacon (diced finely and fried and drained)
Bacon Jam Ingredients:
500gm smoked bacon, cut into 1-inch pieces
4 cloves garlic, roasted & minced
1 medium onions, sliced
1 tablespoon dark brown sugar
1 tablespoon Sriracha or hot chilli sauce
60ml coffee
1/4 cup cup apple cider vinegar
1/4 cup pure 100 % maple syrup
Black pepper
extra water
1.In a heavy based pot with a lid), fry the bacon in batches until softened and beginning to crisp. Remove to paper towel lined plate and set aside. Drain all but 2 tablespoons of bacon grease out of the pan.
2.Fry the onion and garlic in the rendered bacon fat on medium heat until translucent.
3.Add the bacon to the onions and garlic, and add the rest of the ingredients except for the water. Simmer for 2 hours adding 1/4 of a cup of water every 25-30 minutes or so, and stir regularly.
5.Cool for about 15-20 minutes and then place in a food processor. Pulse for 2-3 seconds
Will refrigerate up to two weeks.
METHOD:
Step 1
Combine flour, sugar, yeast and salt in a bowl. Make a well. Mix in milk, butter and egg until dough starts to come together – it may be sticky.
Step 2
Knead on a well-floured surface until smooth. Place in a greased bowl. Cover. Prove for 1 1/2 hours or until dough has doubled in size.
Make Bacon jam recipe.
Step 3
Punch down the doughnut dough. Knead on a lightly floured surface for 2 minutes or until smooth. Roll out dough until 1cm thick. Rest dough for 2 minutes.
Step 4
Roll out batter and use a 7cm round cutter to cut out discs. Don't cut out centers. Place on a lined baking tray. Set aside for 30 minutes to prove.
Step 5
Deep-fry for 1 minute each side or until golden and puffed. Place on a plate lined with paper towel.
Step 6
Spoon 300gms of bacon Jam into a piping bag fitted with a 10mm nozzle.Push the nozzle into the side of the doughnuts and pipe in the jam.
Step7.
Combine icing ingredients together and smear over doughnuts then top with cooked bacon pieces.